There are so many thoughts come into my mind when I write any article for my website.
Is it required to have a Good Domain Name?
Successful Tips to Choose Right Domain for Your Blog
Is it necessary to update and write best articles for website?
Can I get huge traffic to my website overnight?
Should I post my articles to social bookmarking website?
Should I go for Guest Posting to increase traffic to my website?
It's not the end of the questions, they are so many but time is limited. So in this article I am writing few tricks to make your blog popular in the internet world.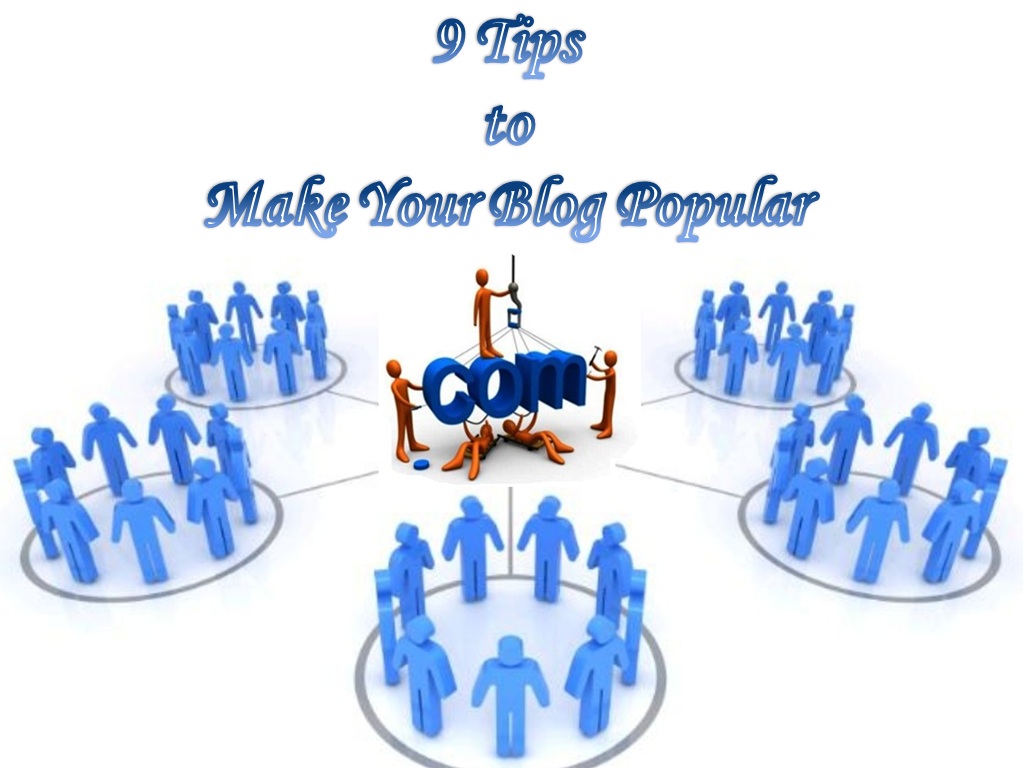 Nothing happens overnight blogging requires smart work, dedication, hard work and continuous improvement on your blog or website.
1). Write 100% Unique Quality Content: 
Writing 100% unique quality content is on the top of the list to make your blog popular. Don't copy others article, write your own unique article and publish it to your website.
When you write unique content and provide simple ways to get huge traffic and popularity then your readers appreciate your work otherwise they left your blog.
5 Ways to Create Quality Contents for Your Website or Blog
Best tips to Write 100% Original Unique Content for Blog or Website
2). Write Often and Update Older:
Writing unique content in a month is not a good IDEA. You have to write more often at least twice or thrice in a week. Write educational and motivational information on your blog so that your website can engage more readers.
Also don't forget to update your older posts and keep them alive forever using these below tips.
Regular Tweet to Keep Your Old Blog Posts Alive using Twitter
3). Write Guest Post:
Guest posting on others blog is also a most popular technique to increase huge traffic as well as popularity of your blog. When you write any article on others blog, you get quality backlink to your website.
There are many quality and high PR ranking websites offer guest posting.
4). Blog Loading Time – Speed Up Your Website
This is the major issue I have seen. Many newbie bloggers purchase a domain and start blogging but don't try to focus on speed of their website.
There are many tools and plugins available to speed up the website but here we suggest some basic tips to speed up website.
5 Best Tips to Speed Up Your Website
5). Create Quality Backlinks:
Creating quality backlinks is highly recommended. When you comment on any high PR website or use these high PR websites for Guest posting then you get quality backlinks from those websites.
So, it is suggested to comment on high PR ranking websites and use these high PR websites for Guest posting to build quality backlinks.
6 Great Tips of Internal Linking with its benefits for SEO
6). Improve SEO:
SEO (Search Engine Optimization) plays very important role in building a blog. Your blogging could be a nightmare without SEO implementation.
Focus on improving SEO by implementing best SEO tips to your blog or website.
10 best SEO tips for Website or Blog
Top 5 Best SEO Plugins for WordPress
7). Use Social Networking Websites:
Promote your blog or website on top most popular social networking websites like Facebook, Twitter, Google+,LinkedIn and Pinterest. You will also get a quality backlinks and huge traffic to your blog from these social Networking Websites.
Sharing your article on these social media networks will also help to index your blog very fast.
How to Get Fast Index Your Blog Post on Google
8). Submit Article to Social Bookmarking Websites:
Submit your articles to social bookmarking websites to get huge traffic and for building quality backlinks.
When you write an article you should submit your article to at least these top social bookmarking websites. It will help you to increase more visitors to your blog.
61 Social Bookmarking Websites to share your article
9). Don't Blog for Money Only:
Every newbie blogger start blogging to earn money online and forget the thumb rule "Success ke peeche mat bhago, kabil bano, success to jhakh mar ke peeche ayegi".
Don't blog for making money, make blogging your passion and start writing great articles you will automatically get so many ways to earn money from your blogging niche.
7+ Tips to Monetize Your Blog and Make Money from Blogging
I have shared my experience and learning to all my readers. If you have any other ideas related to this article, don't forget to share using our comment section.