You have done so much research on writing best articles and choosing best SEO tips but still you are not able to get index fast your post on Google.
Top 5 Best SEO Plugins for WordPress
You must have seen many people who are able to get index their blog posts in just few hours or sometimes in just few minutes.
How they do it?
Is there any trick to get it index very fast?
Can we also get index our post in just few minutes?
The answer is YES, we can also index our post in few hours or sometimes in few minutes on Google.
Note: But it doesn't mean every time your article will index in just few minutes, it can take few hours or few days.
Then what are you waiting for, just follow 5 best tips to get fast index your blog post on Google.
1). Write Unique Quality Content
This is the first step to get fast index your blog post on Google. Don't copy others article, use write and good keywords in your post and always write unique quality content.
Best tips to Write 100% Original Unique Content for Blog or Website
Like this type of article is already posted on so much websites but when I started to write about this article, there was only one thought in my mind and what was that?
I saw my one post indexed in just 6 mins and few posts in 5 to 6 hours then I decided to write this article to share the same tips to my visitors which I implemented to get it index very fast.
2). Build Quality Backlinks (Internal as well as External)
The second most important tip is to build Quality Backlinks.
What does it mean by Quality Backlinks?
Quality Backlinks means your article or blog must interlinked with high PR websites. If your article or blog is linked with high PR websites then Google authorize your blog more easily.
So, it is always suggested to comment on high PR websites and use these high PR websites for Guest posting to build quality backlinks.
Don't forget to interlink your newer posts to older posts to keep them alive. They also play an important role in building quality backlinks.
3). Submit Article to Social Bookmarking Websites
Submit your article to top most social bookmarking website to get huge traffic and for building quality backlinks.
When you write an article then don't forget to submit it to at least these top 14 social bookmarking websites. It will also help you to increase more visitors to your website or blog.
61 Social Bookmarking Websites to share your article
4). Share your Article on Top Social Media Networks
Sharing your article to Facebook, Twitter, LinkedIn and Google+ is also a best option to get quality backlinks and huge traffic to your blog.
These top social media networks help to get index your article very fast because Google frequently indexes these social media websites and the link back to your website help to index your article too on Google.
5). Submit Sitemap to Top Search Engines
Once you posted your article, submit sitemap to top most search engines.
Submitting your sitemap to search engines means you are informing them about your new article. Your article will definitely index very fast as you do it.
Note: Remember this is not the one day activity; you have to follow all the tricks when you post any new article at your website.
Post updated after 2 hours: The post is indexed on Google and showing on 3rd page.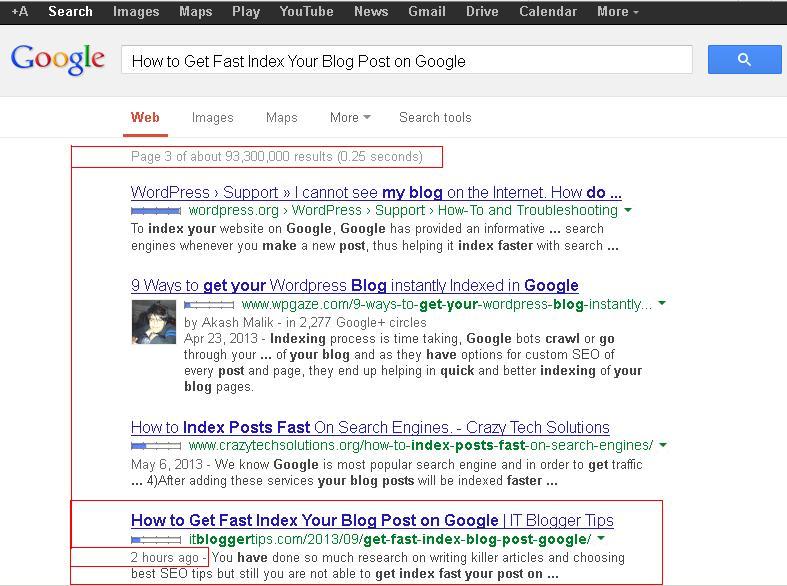 If you have any suggestion or tips then comment below this post.