There are so many premium subscriber plugins available over the internet but every newbie wants to start with a free feedburner subscriber form. That's why this article is dedicated to all newbie bloggers who want a free feedburner subscriber popup plugin for their website or blog.
This plugin is very easy and simple to use. Just follow below steps to install and activate this plugin to your website.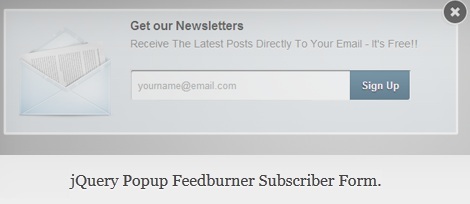 SC Popup Subscriber Form
This is a jQuery Popup Feedburner Subscriber Form that appears on Page Load and you can perform following settings through admin panel.
1). You can Enable/Disable jQuery Popup Feedburner Subscriber Form from the admin panel.
2). You can set the feedburner feed id from the admin panel.
3). You can change the Heading and Details of Popup Form from the admin panel.
Download:

You can download this plugin from below URL.
https://wordpress.org/plugins/sc-popup-subscriber-form/
Must Read:
Best WP-Optimize Plugin to Optimize WordPress database
Top 10 Most Desired WordPress plugin for Every Blog or Website
Installation Steps:
The installation process is very simple.
1). Go To Plugin section >> Click on Add New button.
2). Search SC Popup Subscriber Form plugin >> Click on Install button.
3). Once the plugin is installed, click on Activate button.
4). After activating it, navigate to Settings >> SC Popup Subscriber.
5). Then add your Feedburner URL like itbloggertips and edit texts.
Now write some attractive text (e.g. Get free Tips and Tricks for your daily use, it takes less than 15 seconds etc.)
Hope this plugins would help you to get more visitors towards your blog. Don't forget to share, If you find it useful for you and other bloggers.