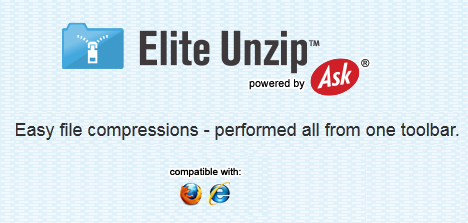 You must be aware about new free unzip toolbar elite powered by Ask.com. There are many free unzip software available over the internet but Elite unzip is the best solution of them because it provides you a toolbar for Firefox and Internet explorer. It Compress and decompress multiple file types easily and all from one FREE & convenient spot.
It supports on Windows-XP, Vista, 7 and 8 operating systems. It comes with many features such as:
Zip and unzip major file formats.

Reduce transmission time.

Reduce file size.

Combine several files into a single compressed folder.

Save storage space. Send files easily. And more!
How to download Free Elite Unzip Toolbar
1) Visit  Elite Unzip website using the link- http://www.eliteunzip.com/index.jhtml
2) Click on Free Download button >> Now Click on Allow >> Click Install
3) Now toolbar installation begins.
You may check the installation with Firefox by visiting in Add-ons section.
Go to Tools >> Add-ons >> Now you can check the add-on under Extensions section.
Must Read:
How to Protect your Zip file with a Password in Windows
How to Remove 7-Zip Entries from Context Menu
Format Supports:
Elite Unzip supports ZIP, GZIP, TAR, 7z, WIM, RAR, ISO, CAB, UDF, DMG, CHM, Z, RPM, DEB, VHD, HFS + more formats.
This add-on is compatible with Firefox and Internet Explorer.