Whether you are an associate or owner of a company, you can't work without Excel.
In this article we have explained how to change the cursor movement direction in Excel.
By default, cursor moves top to down when you press an Enter key on your Keyboard. As mostly data is entered into columns so it comes with the default option Top to Down.
Sometimes for data entry work, we need to put data in rows like left to right, right to left.
You can easily change the cursor direction in Excel.
Step-1:
Click on the File tab of the ribbon to open the file menu and click on Excel Options as shown in following snapshot.
Step-2:
Select Advanced tab in the left pane of the dialog box.
Select Down, Right, Left or Up direction under "After pressing Enter, move selection" in the right pane.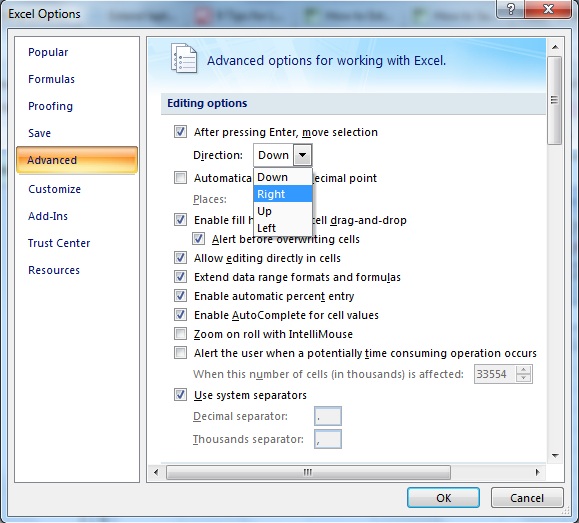 Once you have selected the desired option, the cursor will move in the selected direction.
Step-3:
Now enter a value in any cell and press Enter to check this option.
By this way you can easily change the cursor movement in Excel.
If you are facing any difficulty, please write to us in comment section.