I am using Windows-7 system along with McAfee antivirus software.
Today I got an issue while launching my website where McAfee antivirus software was installed. I troubleshooted everything but I was unable to resolve the issue.
Somewhere I read that McAfee blocks connections and if your website folder or your application file (.exe) is not included in exclusion, your problem will not be resolved.
After that I added my website folders to McAfee exclusion list and restarted computer to affect the changes. It's done. My website is working properly.
In this article, I'll show you how to add exclusions in McAfee antivirus software.
Follow step by step settings process to exclude your folders or application files (.exe) in McAfee antivirus software.
Step-1:
Go to Start > All Programs > McAfee
Now open VirusScan Console as shown in following snapshot.
Step-2:
Following window will open as soon as you click on VirusScan Console option.
Click on All Processes > Exclusions tab> Exclusions > click on Add button to add exclusions in the list.
You can refer following snapshot for your convenience.
Step-3:
In the below snapshot you can see I have added "C:\Program Files\Testing Software\" in the exclusions list.
While adding any folder in exclusion list, don't forget to check "Also exclude subfolders", "On read" and One write" option.
Click on OK to continue.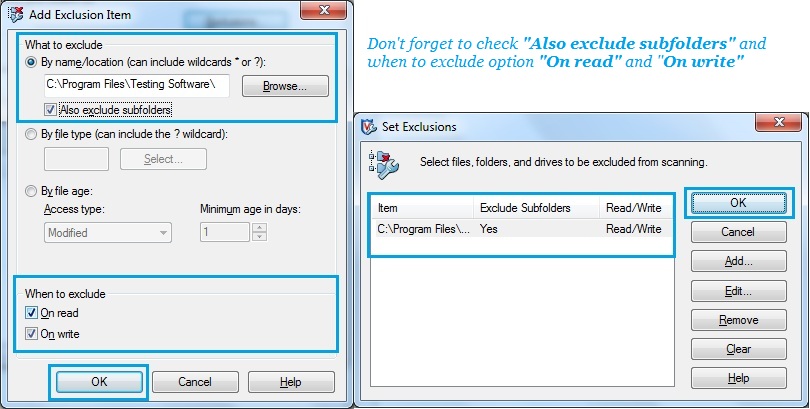 I hope this helps you to add your website folders or any application files (.exe) in McAfee exclusion.