After lots of questions from my readers I am going to post this article that how to get Google Adsense Approval on any website without fail.
I would like to thank to all my readers who asked this question via e-mail and inspired me to write about how anyone can quickly get Google Adsense approval without fail.
Before applying to Google Adsense, you should ask few questions to yourself.
The questions could be many but these 3 questions will answer all your queries and will help you to get Google Adsense Approval in first attempt.
Q-1: Why every blogger wants to have a Google Adsense Account?
Google Adsense is the world's largest advertisement network and it gives you money better than any other network. This is the biggest reason that every blogger wants to have a Google Adsense account.
Q-2: Why every blogger says it's very difficult to get Google Adsense approval?
Most of the newbie bloggers are in a hurry to get Google Adsense approval and they don't even read Google's terms and conditions carefully. Google always recommends reading Google Adsense program policies very carefully.
Q-3: Why most of the bloggers fail at first time?
If you don't want to get rejected, read Google Program policies and comply your website with them. Most of the bloggers don't check their website and their request gets rejected by Google.
I know it's a dream of every blogger to get Google Adsense approval and earn lots of money with it.
I also dreamed to get Google Adsense approval and failed 3 times in 8 months. When I failed 3 times then I decided to read Google Adsense policy again line by line. After that I made some changes according to Google Adsense Policy and finally I got Google Adsense approval on 21st Feb 2014 i.e. after 9 months long journey.
As you are already aware that Google Adsense has changed many things in its algorithm and getting Google Adsense approval is really very-very tough now a days.
But you don't have to worry about it because if you are serious about getting Google Adsense approval and you trust me then do whatever I am going to explain in this article. You will definitely get Google Adsense approval in first attempt.
If you are following all the below guidelines and still unable to get Google Adsense Approval, write to us in comment section or contact us via e-mail. We will check your website and let you know about the problems with your website.
Note: Before writing to us, please ensure that your website comply all the below guidelines.
How to comply with Google Adsense Policies?
Following policies will help you to get Google Adsense approval without fail.
1) Top Level Domain (Preferred .COM Domain):
Those times are gone far away when Google Adsense Team used to approve Google Adsense on "WordPress" and "BlogSpot" blogs. As for today, you must have a top level domain. It is preferred to have a .COM Domain but other domains are also good for creating a Blog.
2) Age Verification (Minimum 18 Years):
Your age must be 18 years for applying Google Adsense.
3) Website Age (6 Months Old):
Your website must be 6 Months old for India, China and some other countries.
4) About Us Page:
About us page plays a very important role in getting Google Adsense Approval. You may checkout our About Us page. About us page helps you to establish a good relationship with your readers.
5) Contact Us Page:
Contact us page helps your readers to contact you and it shows that you care about your readers. This is the most important thing for Google Adsense Team.
6) Privacy Policy:
Your website or blog must have "Privacy Policy". This is one of the common mistakes every blogger do. It may affect on your Adsense approval and your application may get rejected. You may check out our "Privacy Policy" page.
7) Add Sitemap:
You must add sitemap to your website or blog, Sitemap is basically XML sitemap which is created to help search engine crawlers.
8) Add Robots.txt File:
Robots.txt files are used to control the indexing of posts and pages. If you want to exclude any page or post then noindex through Robots.txt is the better solution. Just create a robots.txt file and you will follow Google Adsense guideline.
9) Amount of links guideline:
Your webpage links should not be more than 100. There are many webmasters who wouldn't agree with me but this is better to keep less than 100 links on a webpage.
10) Titles / Alt & Text / image links guideline:
Try to use descriptive and accurate Title and ALT tags for an image. Try to use Texts instead of images to display important links in a webpage.
11) Follow if modified since guideline:
Your web server should support if-Modified-Since HTTP header. This feature allows your web server to tell Google about content changed of your web page since Google last crawled your website.
 12) Name / Email Verification:
Sometimes without Name & Email verification, your website or blog gets approval from Google Adsense but it is always recommended to put your name and e-mail id in Contact Us section to confirm Google Adsense Team that you are the right person who is applying for Google Adsense.
13) Write 100% Original Unique Content:
Always write 100% original unique quality content with at least 300+ words.
14) Minimum No. of Posts:
Nobody tells the exact answer because I have seen so many established blogs with more than 300+ posts are unable to get Google Adsense approval while people with 50 & 60 posts are making money with Google Adsense.
I always suggest that every blogger must have at least 50 Posts with 500+ words and 50+ unique visitors (organic traffic) from popular search engines like Google, Yahoo and Bing.
15) Content Type:
Be careful, Google Adsense Team doesn't approve those blogs who write and promote illegal items.
16) Other Ad Networks:
If you are using any other ads on your site, it's time to remove from your website and apply for Google Adsense.
17) Paid Traffic:
If you are increasing your visitors using paid traffic, you will lose the chances of getting approved. Even after Google Adsense approval you can't use paid traffic on your website or blog.
18) Alexa & Google Page Rank:
It's not mandatory but try to increase Alexa Ranking and Google Page Rank.
19) Submit to Google & Yahoo:
Submit your website page URL to popular search engines like Google, Yahoo & Bing. This will help you to increase organic traffic towards your blog but it is not mandatory for applying Google Adsense.
20) Register with Google Analytics & Webmasters:
Create your account with Google Analytics and Google webmasters and Link your website with both the accounts. This is also not mandatory but good for applying Google Adsense.
If you have done all the above settings then use below tool to check whether your website is following Google Adsense policies or not.
21) feedthebot.com – Tool to check Google Webmaster Guideline:
Step-1:
Open feedthebot.com website and enter your website URL as shown in following snapshot. Click on Go button to know about "Does your website follow the Google Webmaster Guidelines?"

Step-2:
You will get the results of your website as shown in following snapshot. Just review the details/explanations and if they are wrong then correct them and check your website again till all the errors comes under OK or Warning section.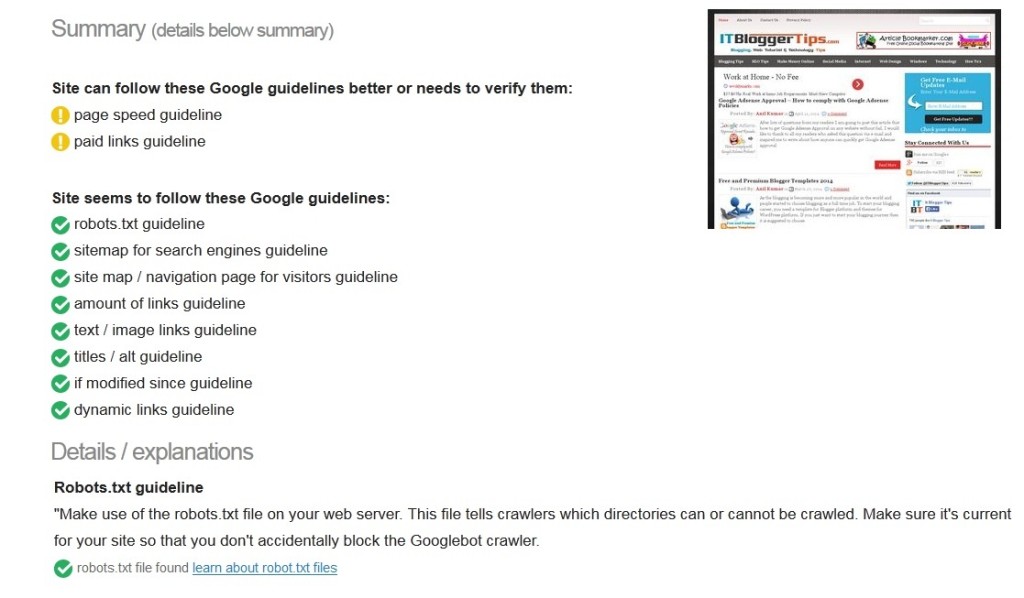 I hope this tutorial will help you to get Google Adsense approval in first attempt. If you are still unable to get Google Adsense approval after these change, do write us in comment section, we will definitely help you.