Every blogger want to get huge visitors to blog by organic traffic or by social media traffic.
There are so many ways to get organic traffic like by writing 100% original unique article, by submitting articles to social bookmarking websites and by submitting contents to top most search engines like Google & Yahoo.
Is there any ways to get huge social media followers and likes?
OnePress Social Locker plugin is the answer of this question.
What is OnePress Social Locker plugin?
OnePress Social Locker is a Plugin of set of social buttons and a locker in one container. When you like or follow social media buttons then the lock is opened and restricted page or download begins.
For Example: Once a user tweetd to their followers, or liked facebook page, or followed google+ page, or shared on their social network then the user is given access to all the restricted content or any other locked content.
Do you know every blogger place social media buttons on every post but users don't share the content as often as bloggers like?
 You should give readers a reason to share, like and follow your article and blog.
You Must Read:
Top 10 Most Desired WordPress plugin.
OnePress Social Locker is a plugin specifically designed to help webmasters to increase their social media presence by asking visitors to give some amount for your content with a tweet, follow, plus one, or a Facebook like.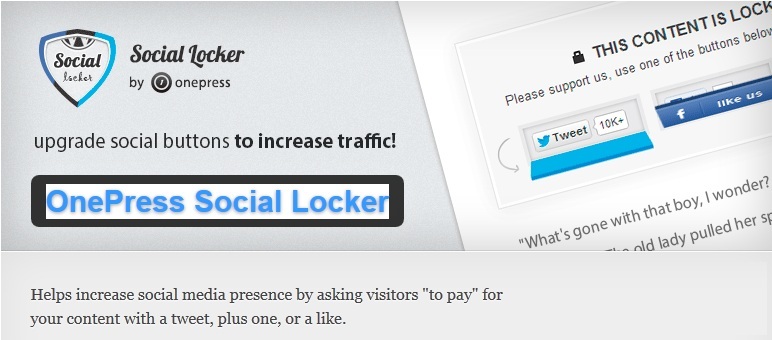 You can see in below snapshot of how the content locker will look on your website. There are four content locking themes to choose from but here I have shown only one.

Key features of OnePress Social Locker Plugin are:
1) Compatibility: OnePress Social Locker Plugin is compatible up to WordPress 3.8.0
2) URL to like/tweet/+1: You can set any URL that will be used to share by social media buttons.
3) SEO friendly: Locked content is available for search bots (Google, Bing, etc).
4) Analytic tools: The plugin comes with built-in analytics tools to track how users interact with the locker and which channels bring the most traffic.
5) Highly customizable: The plugin provides you a large set of available buttons that are ready to use immediately after successful installation:
Facebook Like
Facebook Share
Twitter Tweet
Twitter Follow
Google +1
LinkedIn Share
6) Remember Users: The plugin remembers users who already unlocked the content (via local storage and cookies).
7) Browser Compatibility: Compatible with most of the browsers (Including mobile).
8) Block Contents: The plugin blocks any type of content like text, videos, images, links, forms and more.
This is premium Plugin that can be purchased from codecanyon.net website. Trail version is also available and can be downloaded from WordPress website.
If you liked OnePress Social Locker WordPress plugin, share with your friends and colleagues.
You Must Read: