Facebook like box is specially designed only for Facebook Pages that helps you to promote the page and it also allows your blog visitors to subscribe to your blog updates via their Facebook accounts.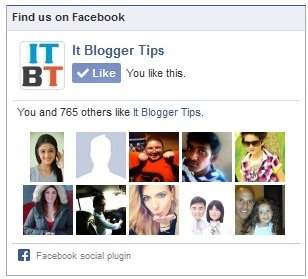 When visitors like your page, they automatically receive updates about your blog on their Facebook account.
To get the Facebook Like Box widget, first create your Facebook page then follow below steps to add Facebook Like Box widget to Blogger/WordPress.
How to get Facebook Like Box to Blogger/WordPress?
Step-1:
Note down your Facebook Page URL by visiting your Facebook account.
http://facebook.com/itbloggertips
Step-2:
Now, visit to Facebook Developer website to create Facebook Like Box Widget.
https://developers.facebook.com/docs/plugins/like-box-for-pages/
Step-3:
Paste URL into the Facebook Page URL field and leave all the fields blank for default width, height & color scheme:
There are 4 more option available to choose.
1) Show Friends' faces: This will show the face of people who liked your Facebook page.
2) Show Header: This will show you header of your Facebook page.
3) Show Posts: This will show posts of your blog.
4) Show Border: This will create a border around the widget.
Choose the options according to your need otherwise select the option as shown in following snapshot.
Step-4:
Once you are satisfied with all the inputs of the Like Box, click on the "Get Code" button.
Step-5:
As you click on "Get Code" button, you will be given the two codes with title of HTML 5, XFBML and IFRAME option.
If you want to add it to Blogger then only iframe code is required.
Just copy the iframe code and place the code wherever you want the plugin to appear on your blogger page. (Refer directly to Step-8)
If you want to use same method for both Blogger and WordPress, follow below steps.
Step-6:
Copy both the code in Notepad.
Step-7:
Then go to your Blogger Dashboard http://www.blogger.com/home) > Template > Click on Edit HTML button. Now paste the first code below the <body> tag and click on Save Template button as shown in following snapshot.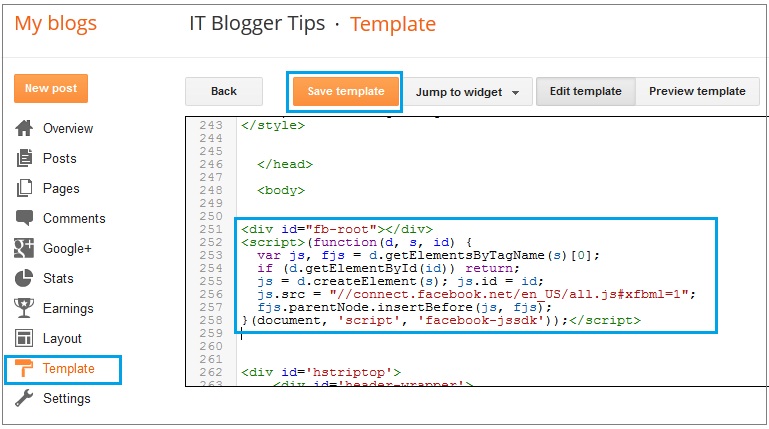 Step-8:
Select on Layout section > click on the Add a Gadget link as shown below.
Step-9:
Now select HTML/JavaScript from the pop-up window and paste the second code into the empty HTML box. Click on Save button to add Facebook Like Box Widget to Blogger. Use the same steps for WordPress too.
WordPress Demo:
Blogger Demo: http://itbloggertips.blogspot.in/
If you get any difficulty in implementing it to WordPress, write to us in comment section.