Sometimes we want to see our few year older tweets on twitter but it's not as easy as it sounds because we tweet thousands of tweets in a year.  It seems difficult to get them.
Is there any way to get first tweet or older tweets?
Yes, Topsy will help you to find your older tweets including your first tweet.
Topsy has indexed all the tweets of Twitter Account since 2006 and its advanced search database displays tweets of any account. You have to search your tweet in search box of Topsy.
Now Topsy provides valuable social analytics too.
Step-1: Open Topsy.com website and search from:your-twitter-id like below screenshot.
You will see all your tweets inside a new window.
Step-2: Click on All Time and Sort by Oldest tweet.
You will see here your first oldest tweet but remember it will not show tweets older than 2006.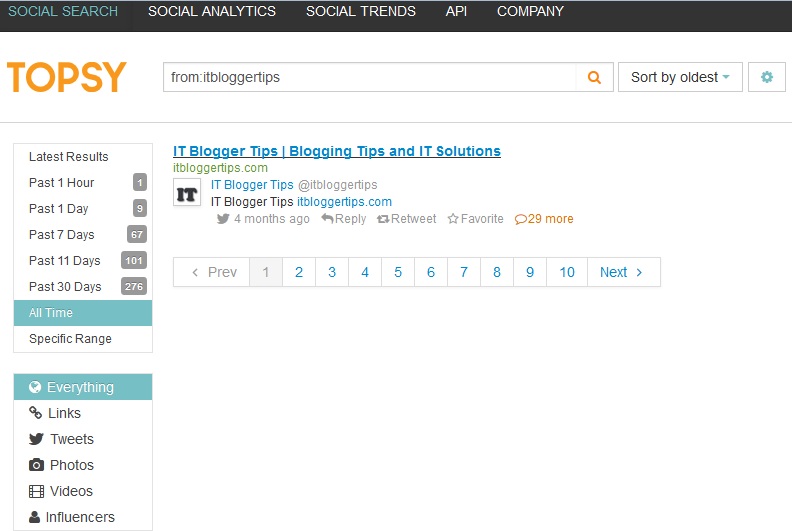 Remember 3 settings while searching your older tweets on Topsy:
1) What to search: You can search any tweet or use from:itbloggertips in the Topsy search box to search for our tweets. Replace itbloggertips with your Twitter ID.
2) Select All time: This option will allow Topsy to search the oldest tweets since 2006. The default option is selected last 7 days.
3) Sort by Oldest:  When you sort by oldest, this gives you your oldest tweets. The default option is selected sort by relevance.
You can also chose many other options like sort by newest, Specific range, link etc. as per your requirement.
How to See All Your Tweets on One Page
I hope you liked this article.