IRCTC launched a new application on 12th Sep 2013 for Windows 8 and Windows Phone 8 devices to ease the users with new channel of booking e-tickets.
The new IRCTC Windows 8 app, developed in partnership with Microsoft to give additional convenience and better experience of e-ticket booking.
The Application has been made available exclusively for Windows devices i.e. Windows Phone, Windows 8 Desktop, Tablet and Laptops.
You can download the application free of cost from application store as per the requirement.
The app allows its users to plan their journey, make railway reservations, check PNR status, Track train route, check availability and cancel tickets.
IRCTCs new service will be blocked from 8AM to 12PM for agents and mobile devices and will be down from 11:30PM to 12:20AM for daily maintenance.
You can login into this application using your existing IRCTC user ID and can generate a TPIN to access all the services.
Have a look of Windows Phone 8 App: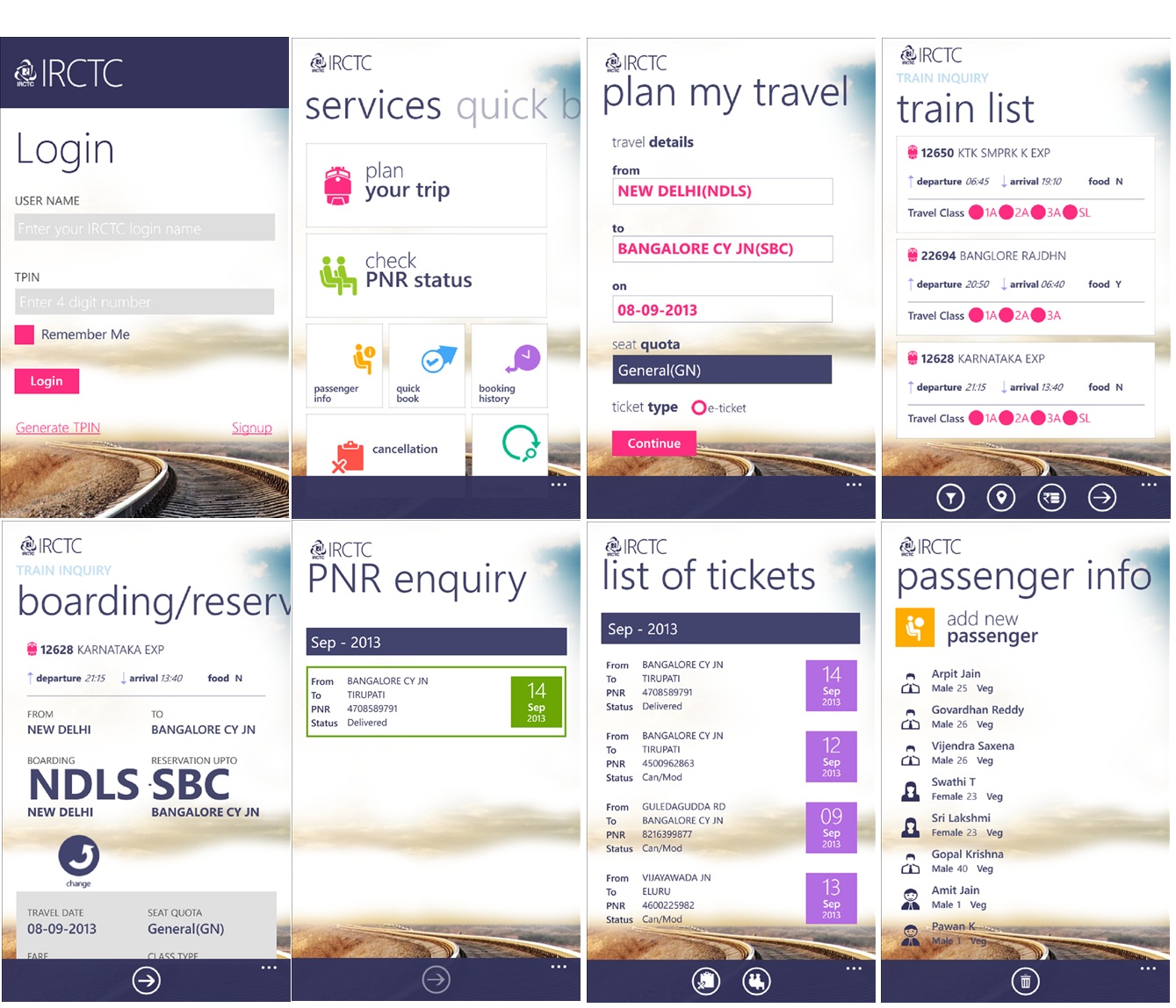 You can download complete Windows Phone 8 Application Guide from here.
https://irctc.co.in/beta_images/windows_apps/WP_guide.pdf
Windows 8 App:
You can download complete Windows 8 Application Guide from here.
https://irctc.co.in/beta_images/windows_apps/w8_guide.pdf
How to fast book your Tatkal Tickets on IRCTC Website
It's complete features are listed below:
Plan my travel
Check PNR Status
Cancellation
Booking History
Frequent Passenger Info
Quick Booking
Preferences
Favorites
Recent History
Live Notifications
Supports Windows 8 PC & Tablet