After reading lot of things over the internet I got to know 3 solutions/ways to keep your old blog posts alive. As your website ages, your article becomes older and older and after hundreds of post every year it's really difficult to receive traffic on older posts/articles.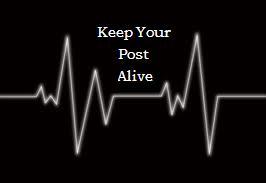 Here are 3 best ways to keep your old blog posts alive forever.
1). Interlink to your old posts
It is my favorite one because as your website grows with lots of posts your older posts lost in the crowd so interlink between newer post and older relevant post keep them alive.
And your readers get more information about the topic and know more about the good older contents of your website.
2). Tweet your old Posts
It's not recommended to have a lot of WordPress plug-in to your website. But some plugins are really very important like these plugins Top 5 Best SEO Plugins for WordPress.
Now there is another plugin Tweet Old Posts (http://wordpress.org/plugins/tweet-old-post/) to tweet your older posts on a specific period of time. This plugin will take permission to authorize your twitter account and after authorization it will tweet your older articles on your twitter account after a specific time which you set.
The plugin will randomly select an article/post from your WordPress blog and tweet it out at the timed intervals you set. You can also set exclude categories options for not to tweet.
After making changes click on update tweet old post options. You can also check whether it is working or not by clicking on Tweet Now.  
For more detail about Tweet OLD post >>
3). Redirect older posts/articles (Use 301 redirects)
"301 redirects" is the most proficient method for webpage redirection and it's not as difficult as it sounds. If you want to change your file name or move your page then it's the safest option and the code 301 here is interpreted as moved permanently.
You can implement 301 redirects only on following conditions:
If you have moved your site to a new domain/location.
If you want people access your website through several different URLs like http://yourdomain.com/home, http://home.yourdomain.com or http://www.yourdomain.com. You can use 301 redirects to send traffic from other URLs to your preferred URL. You can also use Google Webmaster Tools to set your preferred domain.
When you are merging two websites and want to sure that links to outdated URLs are redirected to the actual pages. JFJCJV92KPWM