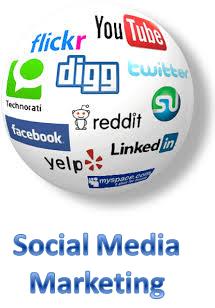 Before discussing about what are the key benefits of social medial marketing first we need to understand what is social media marketing actually.
Social media marketing is the process or you can say a course of action of marketing through social media web sites like Facebook, Twitter and You Tube etc. Today social media marketing is able to connect and interact with people/audiences on a much more personalized and dynamic level than through the traditional marketing. Example of social media marketing could be anything like having a blog and a twitter account to tweet.
There are so many benefits of social media marketing but five of them are.
There is a study where 89% of marketers say that social media like twitter, facebook & you tube generates more business exposure for everyone in this world.
If you are using social media 6 hours or less than that per day then 64% saw lead generation.
You have to agree that 69% of marketers widely use social media to gather marketplace intelligence from it.
One of the great thing is that 62% of marketers using social media for more than 2 years reported a rise in search engine rankings.
And fifth is that 62% of businesses with 10 employees or less reported that social media like facebook, twitter and you tube has reduced marketing expenses also.
There are so many social media available today to increase your business, increase your Alexa ranking and many more things.