There are many options available over the internet to boost your computer speed as well as Increase Internet Speed.
Here i have mentioned 7 Best tips to boost your computer speed.
Step-1:
Disk Cleanup: Disk Cleanup utility is an excellent utility to perform a disk cleanup and to get rid of recycle bin, temporary internet files, system logs and other temporary files that consume system memory. Disk Cleanup activity can be slow for a time being when it will run but after that your systems speed will definitely improve.
Run cleanmgr to perform disk cleanup:
 Start > Run
Step-2:
Defragment your hard disk weekly : Think about your desk where everything is messy and you find difficult to search things quickly. Now assume your desk is cleaned and organized then it's easy to search things quickly.
It is same with our computer, we open several programs and use internet so that temporary files are generated and these files get moved a lot and increase time to find the stuff. Using Disk-Defragmenter utility we can instruct our computer to organize all the files in hard disk that makes it easier to search files.
Follow these steps to run "Disk Defragmenter":
Start > Control Panel > System and Security > Administrative Tools > Disk Defragmenter.
Or
Right click on "My Computer" and select "Manage" option then select "Disk Defragmenter".
Now select drive according to requirement and you want to defragment and click on Defragment.
You can choose suggest-option whether you have to defragment the volume or not.
Step-3:
Anti-virus software: There are many antivirus software's available in the market and there are millions of viruses out there who can steal your computer's "confidential" information, some delete files,some re-arrange files, some completely render your computer useless, and some invade your privacy.  In reality no antivirus software is capable of detecting and removing every threat so identify good anti-virus software.
Step-4:
Clean up registry and Temporary Files using CCleaner: CCleaner is a very powerful tool to recycle bin, remove temporary internet files, log files,  temporary files, recent documents and history. After a period of time it will slow down your computer as well as take up space on your hard drive. 
Step-5:
Windows update: Microsoft occasionally releases software updates and patches to make the operating system work better and more secure for future threats. They also provide regular updates for some important applications.
Note:Always keep your system updated with latest service pack.
Step-6:
Run Scan Disk to detect bad sector: Running scan disk utility automatically fix errors and marks the bad sector unusable so that the operating system can identify and skip them in future search. Due to these bad sector your system becomes slow.
chkdsk command is used to run Scan Disk:
chkdsk D: /f /r
Here D:is the drive you want to check
/f switch tells the command to automatically fix errors
/r switch locates bad sectors and recovers readable data
Step-7:
Startup Program:  When you install any software to your computer, some of them stored in system's startup items. These software's take more space in RAM and waiting for them to be used, regular use after a period of time they slow down your computer. So disable all unwanted software's from your system configuration.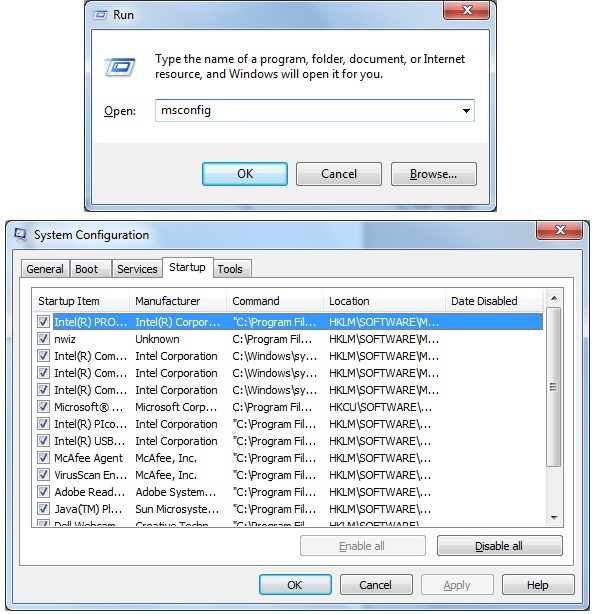 How to Increase Internet Speed
Using all above solutions your systems performance will definitely improve.