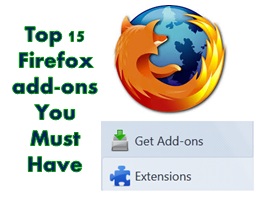 In this article, we will show you top 15 Firefox add-ons or extensions that will help you to work smartly. You can improve your abilities by installing these available add-ons from below mentioned URL.
https://addons.mozilla.org/en-US/firefox
1) Adblock Plus
Adblock plus allows you to add and remove advertisements from a web page.
2) Procon Latte Content Filter
ProCon Latte is a FREE content filter for the Firefox browser. It can filter any kind of unwanted material/website.
3) FireFTP
FireFTP is a FTP Client for Mozilla Firefox. FireFTP also includes more advanced features such as: directory comparison, syncing directories while navigating, SFTP, SSL encryption and much more!
4) Firebug
Firebug integrates with Firefox to put a wealth of development tools. You can also edit, debug, and monitor CSS, HTML, and JavaScript live in any web page.
5) Password Exporter
You can export and import your saved passwords in Firefox.
6) Free Download Manager plugin
This is a powerful, easy-to-use and absolutely free download accelerator and manager add-on.
7) StumbleUpon
This add-on allows you to browse only the best of what the Internet offers.
8) AnyColor
You can change the color and appearance of your Firefox browser according to your choice.
9) Download Statusbar
Everyone installs this add-on after installing Firefox for the first time. This add-on displays the download status on the status bar instead of opening a new download window.
10) TinyURL Generator
This is really a great add-on that allows you to click a small icon in the bottom corner of the Firefox window to generate a small URL for the web page you're looking at.
11) WOT
The is really an awesome add-on that displays a warning screen across a web page if it's deemed insecure. A security warning could be caused when the web page is known to participate in phishing, Trojans, scams, etc.
12) Omnibar
Omnibar add-on turns your URL bar into a Google search as well as the address bar. This helps save your browser real-estate space by removing the redundant Google Search box.
13) AutoCopy
This awesome add-on allows you to quickly copy and paste text from the web page. This is must have add-on for any blogger who finds frequently copying and pasting text. When you highlight the text, it immediately copies that text, without having to right-click and select copy or using a keyboard shortcut.
14) Time Tracker
Time tracker allows you to keep track of how much time you're spending in Firefox by displaying a little clock in the right portion of the status bar.
15) Read It Later
Read it later helps in eliminating the dozens of tabs some users keep open because they haven't finished or started reading that tab.
If you know any other best add-ons, let us know in comment section.