Everybody think that it's very easy to change Desktop Background in Win-7 but if it is disabled from your IT Team then what to do?
Yes, Win-7 lets you change the image of your Desktop that is called Desktop Background or Desktop Wallpaper.
But sometimes in corporates, IT team disable this feature and you can't change Desktop Background of your Computer or Laptop.
In this article, we will show you both the methods by which you can easily change your Desktop Background in Win-7.
Method-1:

If the feature is not disabled
Your desktop background/wallpaper can be a digital picture from your personal collection or any downloaded picture from the internet. You can also select a color for your desktop background or use a color to frame your background picture.
Follow below instructions to change the desktop background:
Step-1:
Click on START button > Go to Control Panel
Step-2:
Type Desktop Background in the search box and click on Change desktop background option.
or
Direct: Skip Step-1 & Step-2, Right click anywhere on the Desktop > Click on Personalization > Click on Desktop Background.
Following screen will appear:
Step-3:
Now select or browse the picture and click on Save changes.
Note: If you want to change the position of the picture, change position (Fill, Fit, Stretch, Tile and Center) under Picture position option. You can also change multiple pictures every 10 seconds to 1 day from the list.
If you are still unable to change your desktop background picture, use below method to change it.
Method-2:

If unable to change with above process.
The above process is not working, it means the feature is disabled in registry, you will have to enable the registry settings.
Step-1:
Put your picture at any location from where it can't be accidentally deleted.
Now copy the location path (I have put my  picture Quotes.jpg in D:\ drive – D:\Quotes.jpg)
Step-2:
Click on START button > RUN > Type regedit to open the registry.
Go to [HKEY_CURRENT_USER\Software\Microsoft\Windows\CurrentVersion\Policies\System] path and double click on Wallpaper.
Paste location path of your picture as shown in below snapshot.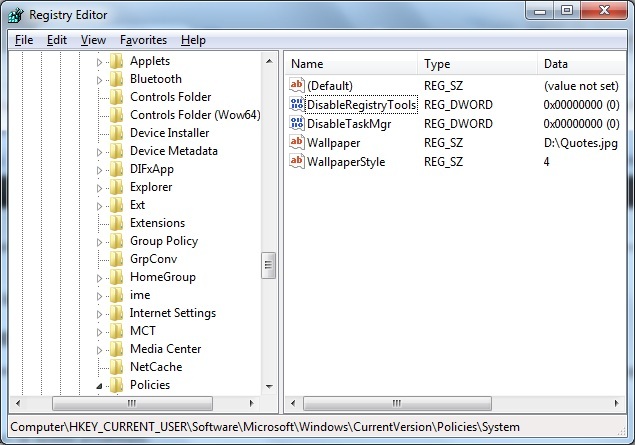 Step-3:
Now log off your computer or laptop. Your desktop background picture will change.
This will not enable the feature but your desktop background will change.