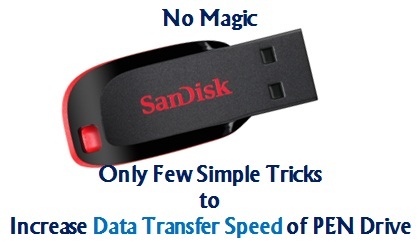 This question is asked by many people that how to increase data transfer speed of PEN Drive. Just Google it and you will find many ways over the internet. I am also not going to tell you any magic but in this article I will explain you few simple tricks to make your PEN drive data transfer faster from existing one.
Before discussing about these tricks we should know which factor matters a lot in PEN drive data transfer speed.
1). Version of your USB port:
Which version are you using for data transfer?
If it is 3.0 then it will give you faster speed than 2.0.
2). Transfer Location:
Which location are you transferring these files?
If it is your local computer then speed will be faster than transferring the same to network computer.
3). Type of Files:
What type of files are you transferring?
It is well known that Audio and Video files take more time in transfer than document files.
In this article I will show you trick for any type of files and it will definitely improve the performance.
What are the steps to Increase data transfer speed of PEN drive?
To avoid data loss, first take full backup of your PEN Drive.
Your PEN drive should support NTFS file system. If it supports, format your PEN drive in NTFS format without choosing quick format option.
Note: Don't choose quick format option while formatting PEN drive and Hard disk drives.
Step-1:
Connect your PEN drive to your computer and open My Computer > right click on PEN drive > select Properties.
Step-2:
Now click on Hardware Tab under PEN drive properties box. Select your PEN drive device and click on properties.
Step-3:
A new window will appear > click on Change Settings > you will see Policies tab in the same window.
Step-4:
Under policies tab, you will get two options (Quick removal (default), Better performance) under Removal policy section. Choose Better performance and click on OK.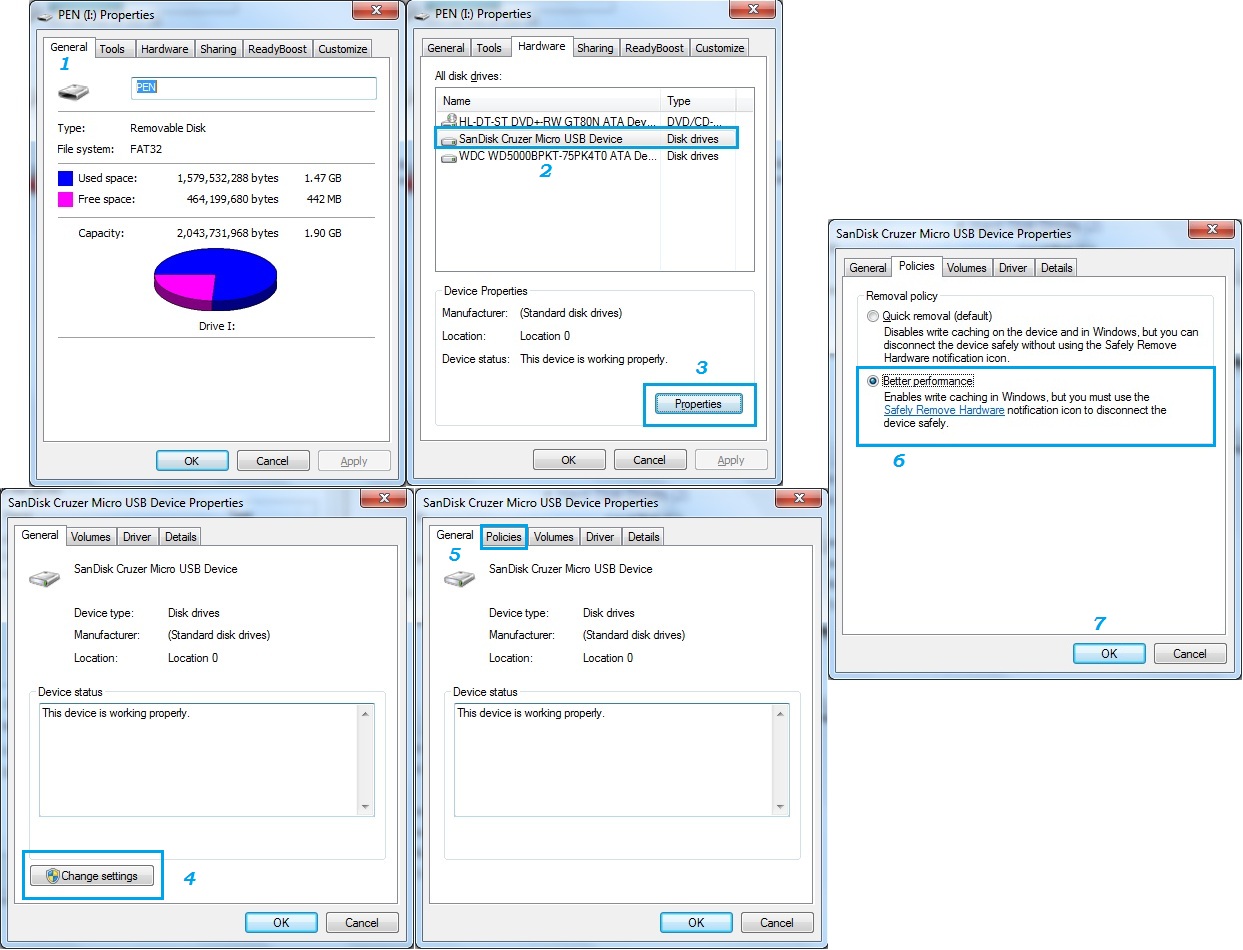 Step-5:
Open PEN Drive properties > Select Tools tab > Click on Check Now option under Error-Checking section > Now select both the options (Automatically fix file system errors & scan for and attempt recovery of bad sectors) > and click on START button to fix the issues of your PEN drive.
These tricks will help you to resolve your problem of data transfer at a large extent. There would not be a magical improvement but would be a better than previous.
Must Read:
How to Boost Your Computer Speed and Performance
Tips and Tricks to Increase Slow Speed of Your Internet
Disclaimer: Take full backup of your PEN drive before doing this activity. This has been tested by author but he will not be responsible for any data loss or PEN drive damage/corruption. You can use this trick at your own risk.