Everybody knows that an image in a blog post is worth a 1000 words. When you add an image to your blog post, it looks awesome and if you don't add images to your blog post, you miss image search traffic as well as your content looks dull.
Note: If you use someone else's image then don't forget to give credit to the original source.
Do you know, legally you can't use any image from the internet in your blog. Either you should create your own image or you should search images for commercial use and give credit to the source.
In this article I will show you how to search free images for your blog using Flickr website.
Note: Suppose if you are running a blog and using copyrighted image then copyright image holder can file a DMCA complaint and your blog post can be removed from the search.
There are many free image websites from where you can use images and can give credit back to them.
Don't ever use copyrighted image on your blog. You can easily create your own image or can use after giving them full credit.
How to use Flickr's Advance Search to find free images:
Flickr is an image sharing website and helps you to find images from the huge library of photos uploaded by people from around the world. Now follow the instructions to find the best images for your blog.
Step-1:
Go to Flickr (http://www.flickr.com/) website or directly click on Flickr Advance Search in Step-3.
Step-2:
Click on Search button as shown in following snapshot.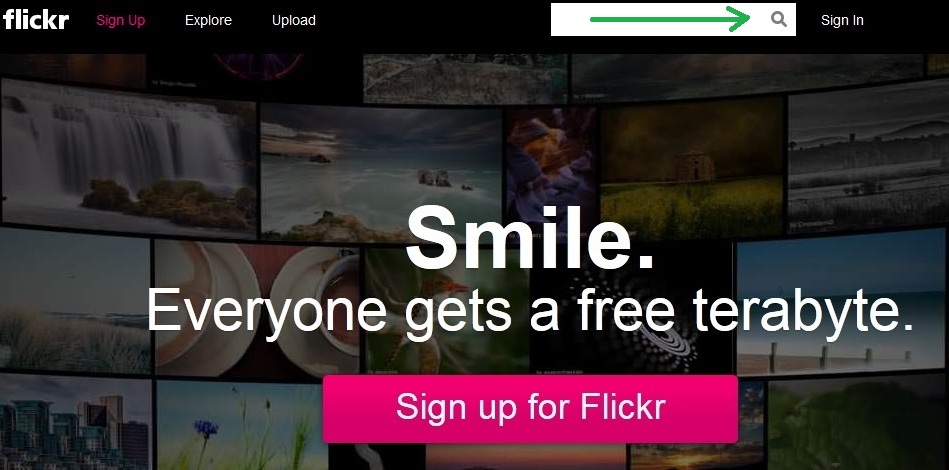 Step-3:
Click on Advance Search option or Click Here (Flickr Advance Search – http://www.flickr.com/search/advanced/).
Step-4:
As you click on Flickr Advance Search following options will show you where you have to enter details as shown below or enter details and select options according to your need.
Step-5:
You will see here last option "Creative Commons-licensed", Just check "Find content to use commercially" and click on Search.
This article will help you to search commercial images for your blog. You can like and share this post to spread this tip with your friend and colleagues too.
You Must read:
How to Make a Transparent Image without Any Software