How to get 2500+ best quality backlinks to your Blog?
It seems difficult but there are so many websites who offer this service but there are many other questions still yet to be answered by webmasters.
Is it really safe to use these types of websites to get quality backlinks?
Is there any website who can give quality backlinks in just 1 click?
We can't discuss this matter in detail because there are so many answers/views about these questions. First we need to understand what a backlink is.
What are the backlinks?
Backlinks is an incoming hyperlink from one web page to another website. It is also known as incoming links, inbound links, inward links and inlinks that are incoming links to a website or web page.
In this article, we will show you how to get 2500+ quality backlinks in just 1 click.
Using IMtalk.org website you will get 2500+ quality free backlinks from different high page rank websites with no-follow and do-follow link.
IMtalk.org has build an IMT website submitter tool by which you can submit your website to high PR website's which are mainly "who is", "website statistics", "about us" type of websites that are regularly crawled by top most search engines.
This IMT website submitter tool will ping those website with your website address and will create a page for you. By this way your website will gain some authority and will start indexing very fast by top most search engines.
Using this website you will get some do-follow and some nofollow backlinks.
How to use this tool create quality backlinks?
Step-1:
Open IMtalk.org website > Select IMT Tools > Click on IMT Website Submitter
Step-2:
Enter your Website/Blog address like (http://itbloggertips.com)
Step-3:
Enter keyword like (IT Blogger Tips, Blogging Tips, SEO Tips, Technology)
Step-4:
Select no of website's you want to get free backlinks (like choose 2504).
Step-5:
Click on Submit button to get 2500+ quality backlinks.

Following screen will appear when you click on submit button. You can see here script is pinging your blog to different websites. Don't close the browser until this script ping to last website.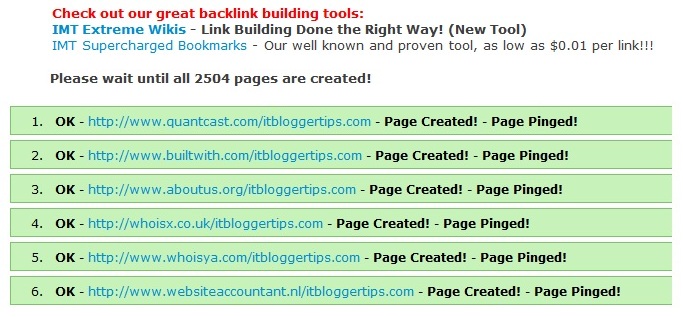 Here you will get 2500+ free quality backlinks for your blog/website by using free IMT website submitter tool. Those websites are indexed by top most search engines like Google, Yahoo and Bing regularly and all have good page rankings.
Sometimes it looks difficult to write unique & original content and blog promotion simultaneously. But it is essential to write regular content for your blog otherwise it would be really difficult to get huge visitors towards your blog.
If you have any comment about this tool, write in comment section.