Facebook rolled out its new feature "Shared Photo Album" for group engagement on Monday i.e. 26th Aug 2013. Thousands of people upload photos on Facebook and share it with their friends. Facebook made it much easier by rolling out a new feature called "Shared Photo Album".
How will you create your shared photo album?
What are the key features/limitations?
Everything is explained here in detail. Have a look of "how to create a shared photo album" picture.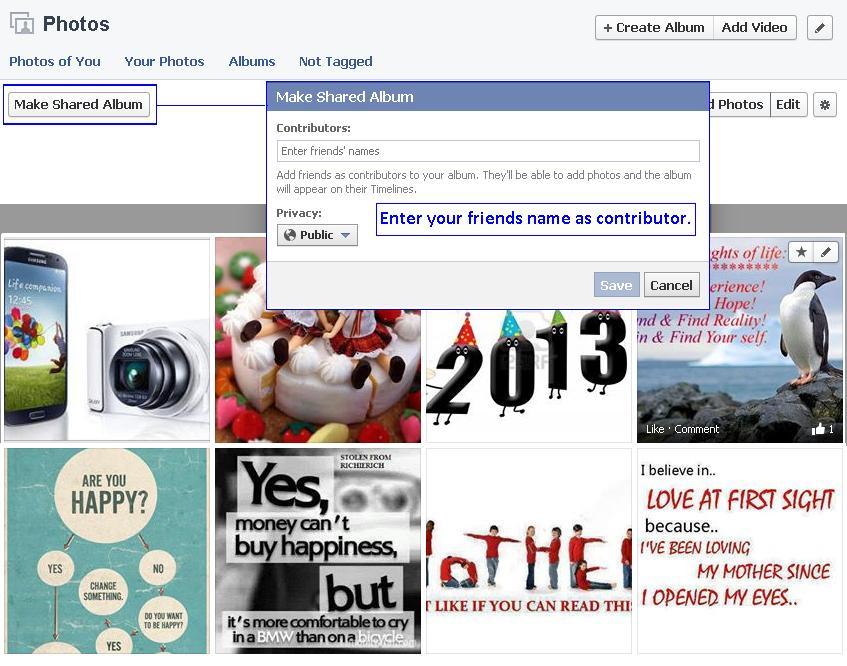 Create your Shared Photo Album in few simple steps:
Step-1: First login into your Facebook account.
Step-2: Create an album and add some photos in it.
Step-3: Now "Make Shared Album" option will appear in your created Album. This option is also appear in your previous albums.
Step-4: Click on "Make Shared Album", and type your friends name to add as contributor. By this way you will give rights to your friends to add more photos in your shared album.
Step-5: Select privacy settings from below three and click on save button. Now your shared album is created, enjoy!
Key Features/Limitations of Shared Photo Album:
1.       The album creator can share access to as many as 50 contributors who can each in turn share up to 200 photos.
2.       The maximum number of images in a shared album is 10,000.
3.       Album creator has the power to allow contributors to invite others to the album, or retain total control on privacy and visibility settings.
4.       A contributor can edit, tag or give captions to the photos which they have uploaded.
5.       You can add your friends as contributor to the shared album and the shared album will appear on their timeline photos and they will be able to add their photos and other contributors.
6.       This new features will be available to those who have selected US English as their language.
7.       There are 3 privacy settings for the shared photo album:- Public, Friends of Contributors and Contributors-only.
8.       With contributors-only setting, everyone will not be able to see all the pictures in such album.
If anything I have missed, please feel free to comment, I will incorporate to the above list.
Don't forget to share with your friends about this new feature "Share Photo Album" to boost group engagement.