There is a simple process of restoring a MySQL database from an existing MySQL database backup. You don't have to be panic if you have backed up your database. Click here if you don't know how to backup of your database using GoDaddy Hosting Control Panel.
Troubleshooting Tips: If you are getting an error while restoring a MySQL database then verify that the Create Database line is removed or commented from the database backup file. You can help of Notepad++ to comment or remove these lines.
First log in to your Godaddy Account
Click on Launch button, just next to the Web Hosting account.

Select MySQL database in the Databases section of the Godaddy Hosting Control Panel.
Click the Actions drop down menu next to the database you would like to restore.
Click Restore and select the backup file from the drop down menu which you want to restore.
Now click Restore/OK to restore the database.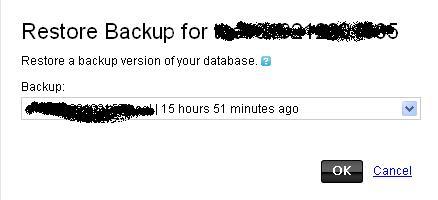 Using above 6 steps, you can restore a MySQL Database.