Microsoft outlook has provided a feature to delay or schedule your e-mails after a specific time. This means you can set the delivery time for your e-mails. You can also schedule a meeting request and recall a e-mail message in Microsoft outlook.
If you have drafted your e-mail on 02:00 PM and you want to schedule your e-mail to 6:00 PM then it becomes very easy with outlook.
How will you set your e-mail delivery time in outlook? Just follow few simple steps.
Start -> Microsoft Office -> Click on Microsoft Office Outlook 2007
Write/draft a message which you want to send someone like below one.
Now click on Options menu and click on Delay Delivery option in the toolbar.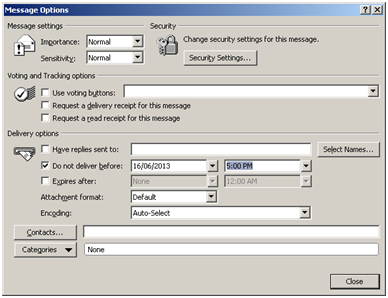 Now you have to set delay or schedule your e-mail delivery time as shown in above figure. Here I have drafted this mail on 10:46 AM and scheduled this to 5:00 PM.
Click on close button and send your mail, it will remain in your outbox folder and will shoot when the date and time is matched.
Now you can schedule your e-mails delivery time according to you.